a production managers dream
---
Production Vehicle Hire London
Are you looking to a brand new and super comfortable production vehicle, client vehicle, or agency vehicle for your upcoming Film, Tv, Commercial or Photographic shoot in the London Area or home counties?  If so then Unit Driver.TV has the perfect solution for you. We have a perfectly customised bespoke extra-long wheelbase brand new Mercedes sprinter, The brand new Monaco designed and crafted by the brilliant team at Stanford Coachworks.
We now have a production vehicle for hire in London that is capable enough to fulfil all your Tv, Commercial production requirements. 
We at Unit Driver.tv offer a budget-friendly bespoke professional TV production vehicle for hire to the commercial, television, and film industry. Working for years in this industry, we understand every production manager's requirements and have commissioned the perfect production vehicle accordingly. Unit Driver. TV work for different types of clients, from small TV production companies to national broadcast agencies. Our production vehicle has everything your production manager will require.  
You want it, Unit Driver. TV has got it
The production vehicle comes equipped with all the required features to help make the production shoot run as smoothly and successful. You can completely trust us when it comes to production vehicle hire. 
Unit Driver.TV has carefully observed and listened to the production managers we have worked with over the years. To make their tasks easier, we have added some items to our TV production vehicle and ­splitter vehicle.  That we guarantee you will assist in the efficient running of the production shoot and you will not be disappointed with the services we offer.
Whether you want to shoot on a particular location or want to take it on the road, let Unit Driver.TV handle all the production vehicle hire requirements for your crew and cast. Go for our services and make your TV production planning a lot easier. 
Why Unit Driver. TV? 
All our Splitter Van and production vehicles are luxury. We believe we have the best like for like production vehicles and they are a perfect logistical solution for the Tv, Film, Commercial and photographic industries. 
We have some great production office essentials in our production vehicle as standard.
This production vehicle is perfect and can be used by the production office team, your client or the agency  splitter, this production vehicle has been designed specifically to suit our clients' touring and production needs. Besides, it offers a maximum level of comfort. Unit driver's production vehicle comes with a lot of fantastic detail and more. Recently, we have upgraded our production vehicle to include: 
Highly comfortable 8 recliner seats along with the work tables.

Heating and Air Conditioning.

Wi-Fi, 2×22" smart Tv's with Apple TV, power points, and HDMI connectivity.

Digital safe

Fridge

Make-up mirror with lighting 
All these things will make your long days super comfortable. Our vehicles are known for their economy, durability, and reliability on the road. 
Do you have a tight budget or a tight location? Don't let this affect your production process. Just check out our production vehicle. Unit Driver. TV is here to offer a level of service in the field of TV production vehicle hire. Check out our impressive production vehicles for hire and book them now.
---
Brand New "20" Plate Production Vehicle / Agency Vehicle / Client Vehicle.
Production Van / Splitter Van / Crafter Type / Space Crafter Type Vehicle 
A Bespoke Extra Long Wheelbase Mercedes Sprinter
5 Tonne Weight Capacity, Ideal for Passengers and equipment
Top of the Range, There will be No Better Vehicle in It's Class
---
This Production Vehicle Hire in London boasts
9 faux leather recliner seats plus work table 
Air Conditioning & Heating Units to keep the perfect temperature whatever the weather 
Onboard Digital Production Safe  
Onboard Production Printer 
Onboard 4G WIFI – Apple Tv – 2 X SMART TV / Playback Monitors – 240v Power Points Throughout the vehicle – USB Charging Points – HDMI Points, 
Privacy Glass Plus Curtains throughout the Vehicle ensuring Privacy if needed, Onboard Fridge, 
Side awning (weather permitting to create that additional outside Workspace, 
Additional Electric Side Steps for easier access, Coach Style Overhead Storage
Multi Purpose Workspace at the rear of the vehicle with an easy access ramp,
The area can be used as a
Equipment and Load Area,
Make Up Wardrobe Area with
   Permanent Lighted Make Up Mirror Available
   Fixed Clothes Rail 
   240v Power Points Changing Room
Or can be used as a separate office space.
We can even supply a Complete Barista Coffee Service from this area. 
8 reclining passenger seats with work tables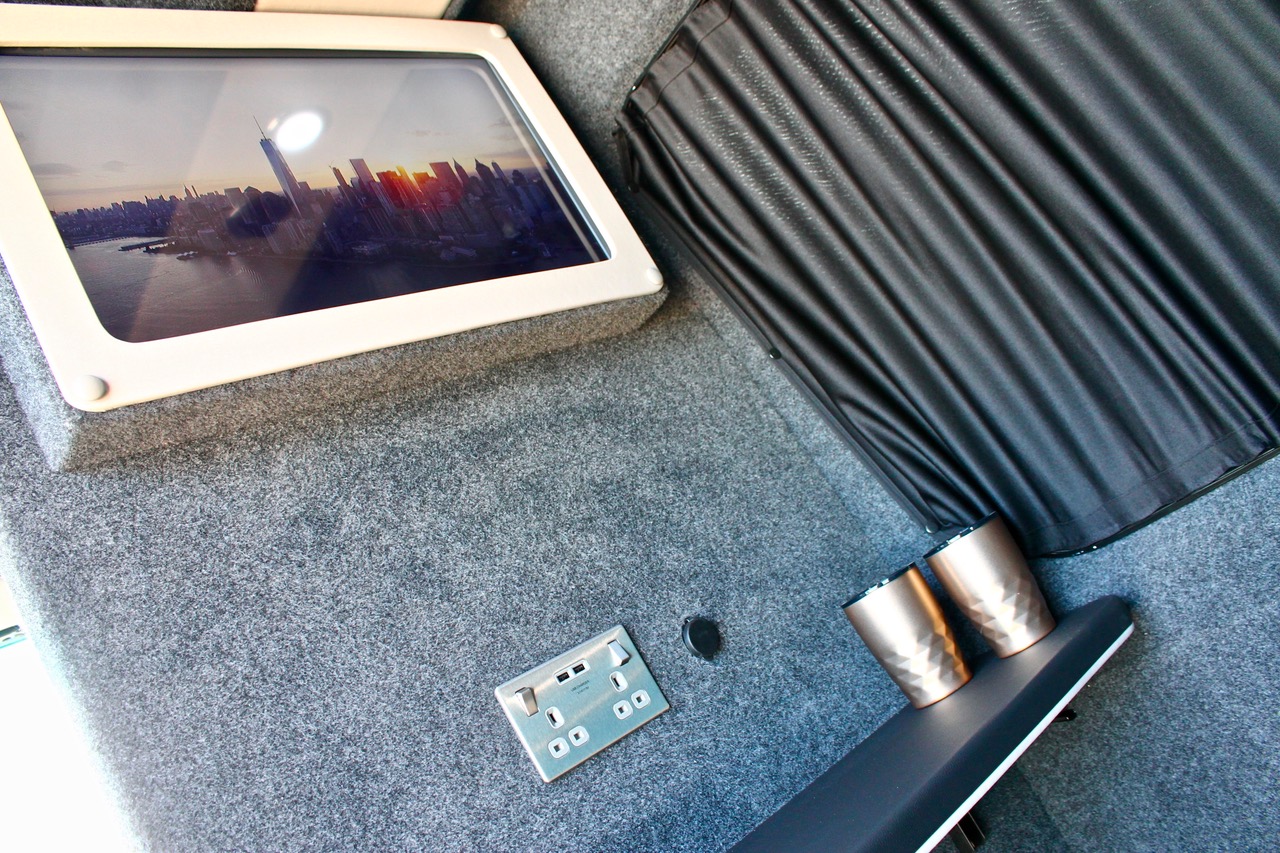 2 x 22″ Smart Tv's plus apple tv & hdmi connectivity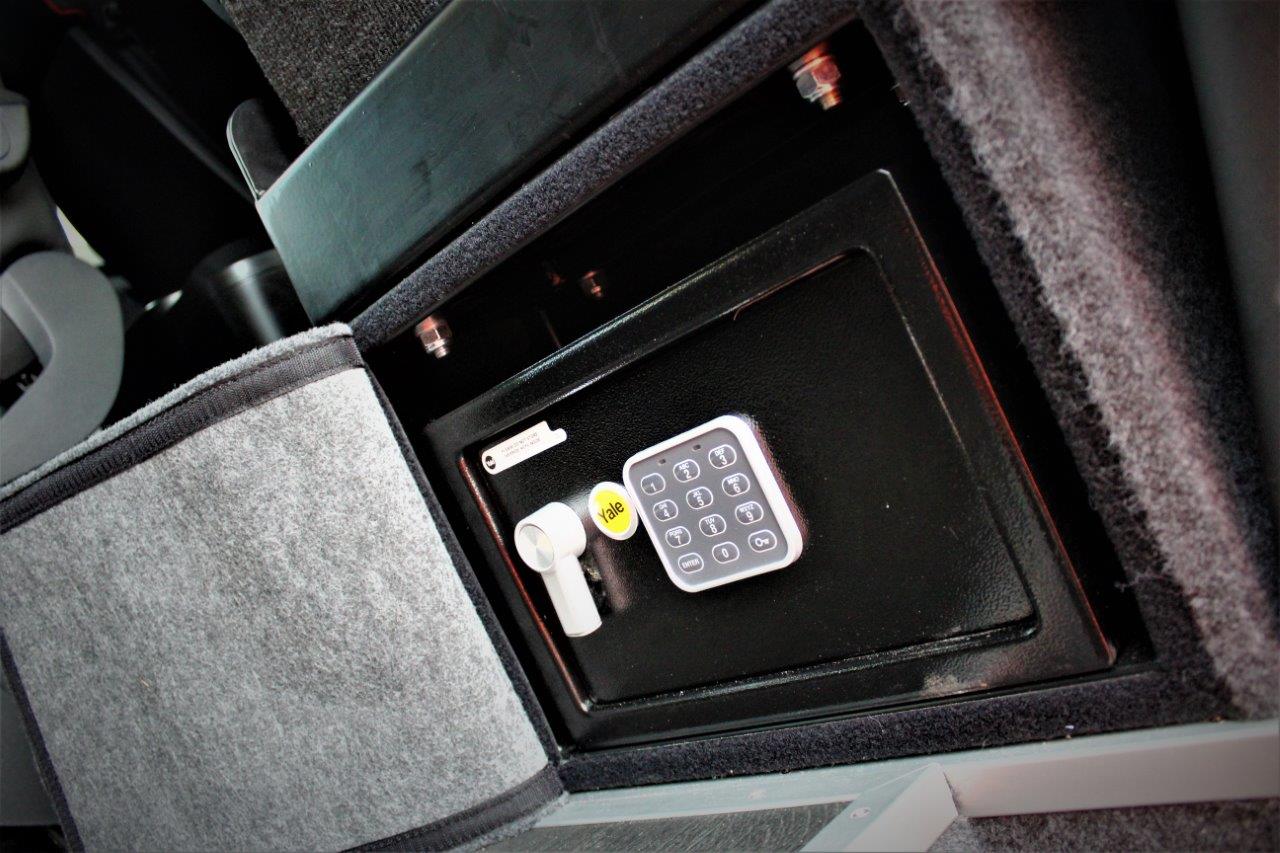 digital safe onboard for production use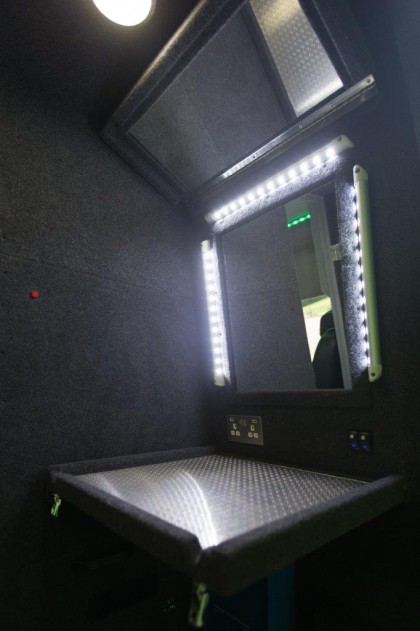 onboard production make up mirror with led lighting
Empty attachment or post type not equal 'attachment'
l.e.d lighting throughout
 onboard ramp installed similar to this one above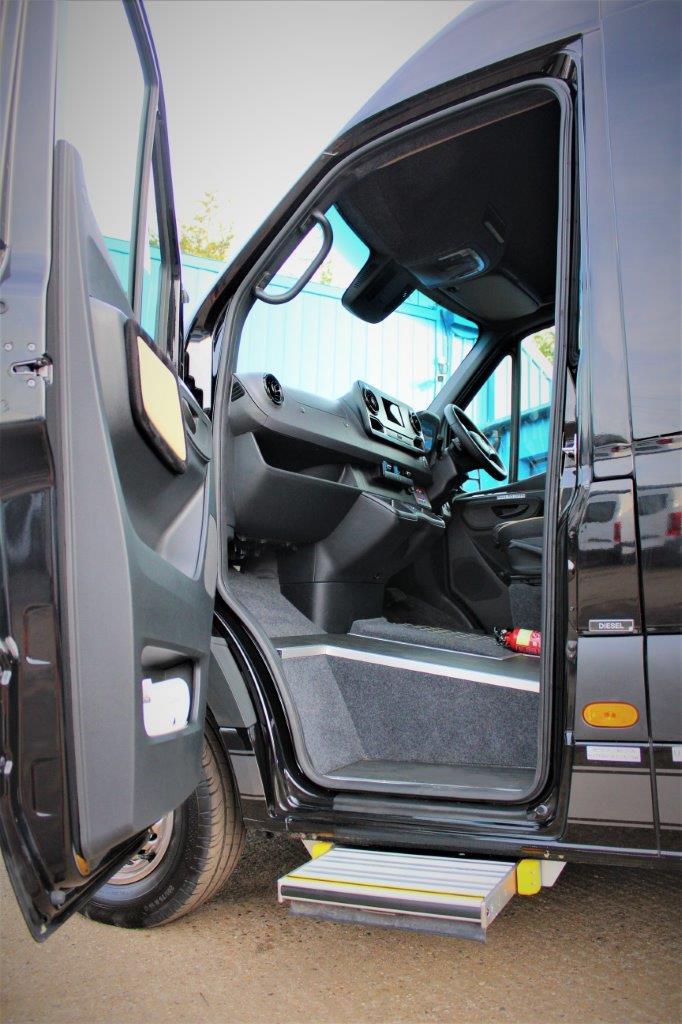 automatic side steps on both passenger entry – exit doors
"We can also provide a full barista coffee service"
---
Available for hire along with this Executive Production Vehicle, we have a full on Barista Coffee Setup
Perfect for those larger shoot days
Minimum box charge applies
Please call for details